The History of VOL's Historic Ballroom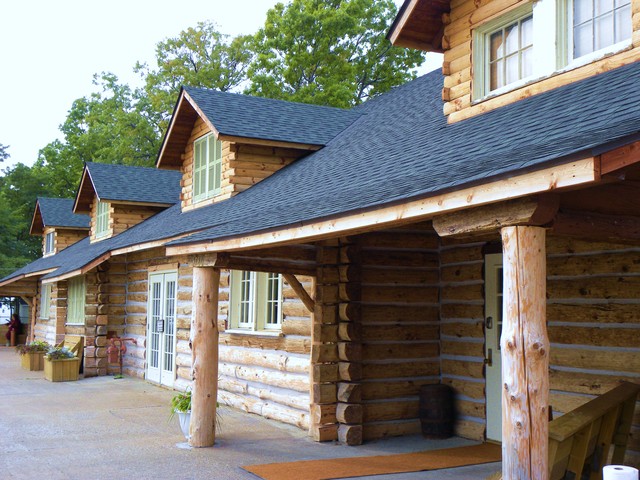 In 1919 a group of investors from the Cleveland area purchased a wooded property with 600 feet of Lake Erie frontage in tiny "Vermilion-on-the-Lake", Ohio. They cleared the land, and using the very logs they felled, built an approximately 10,000 square foot private community center known as the Vermilion-on-the-Lake Clubhouse.
The big bands of that era were soon accompanied by couples dancing on polished hardwood floors beneath a glittering globe. Those original hardwood floors, framed by the original log walls, are still there today. Soon, "Vermilion-on-the-Lake" became a summer playground and a sparkling jewel for well-to-do residents of western Cleveland.
These pre-Depression era high rollers purchased summer cottages throughout the area and shared access to the clubhouse's 600-foot pristine and sandy beach. Ladies with parasols strolled the boardwalk of the "Atlantic City of the Midwest". As late as the 1950's, top-notch entertainment attracted society's elite to the "V.O.L." to see the big bands of the day, including the leading edge sounds of the "Chuck Berry Trio" performing their hit "Maybellene" one summer Tuesday night in 1955.
But, alas, the luster faded. Rising lake levels reclaimed the pristine beach, the economy turned sour and many lot owners looked to sell. Maintenance waned and the original owners agreed to deed the property over to the "Vermilion-on-the-Lake Lot Owners Association".
During the 1960's "Vermilion-on-the-Lake", which had been an incorporated village, was annexed by the then "Village of Vermilion" to create the current "City of Vermilion".
The VOL (Vermilion-on-the-Lake) Historic Community Center remains today one of the only wedding venue's still situated on Lake Erie's shore. The 'VOL CLubhouse', as it has been called, demands only modest rental fees which assist the effort to save and renovate this historic building.
The Vermilion-on-the-Lake Historic Community Center Charitable Trust is a non-profit corporation formed under the laws of the State of Ohio as a service organization. Besides the restoration and operation of the Historic Community Center, their mission includes community service, involvement in the security of the area through our "Block Watch" program, providing a venue for community fellowship and political discussion, and providing education to our citizens about the history and culture of our area.
Through an affiliation with the Lorain County Historical Society, they seek to emphasize the historic nature of this unique building and encourage the businesses and foundations tasked with preserving our heritage to lend a hand in restoring the Historic Community Center to its once glorious condition.
VOL Historic Community Center is located at 3780 Edgewater Blvd, Vermilion, Ohio 44089.