Phoebe Judson: Pioneer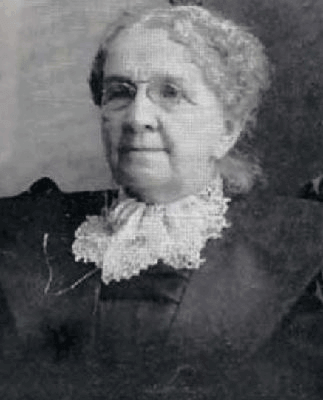 Phoebe Goodell Judson grew up in Vermillion, Ohio. Her pioneer story begins when she married her husband Holden Allen Judson. After three years of matrimony they both decided "to obtain from the government of The United States a grant of land that "Uncle Sam" had promised to give to the head of each family who settled in this new country." With this the Judson's set out to pursue the vast uncultivated wilderness of the Puget Sound, which at that time was a part of Oregon. They departed March 1,1853. As Pheobe Judson recollects, "The time set for departure was March 1st, 1853. Many dear friends gathered to see us off. The tender "good-byes' were said with brave cheers in the voices, but many tears from the hearts."
Born Phoebe Newton Goodell on October 25, 1831, Phoebe was born in Ancaster, Canada, the second eldest of eleven children with her twin sister Mary Weeks Goodell, and named after her father's sister, Phebe Goodell. Her parents were Jotham Weeks "J. W." Goodell, a Presbyterian minister descended from British colonists, and Anna Glenning "Annie" Bacheler. In 1837 her family emigrated to Vermilion, Ohio, where she and her siblings where raised.
On June 20, 1849, at the age of 17, Phoebe married Holden Allen Judson (born mid-1827), with whom she had grown up. (Holden's only sibling, Lucretia "Trecia" Judson, had been a close friend of Phoebe's in Vermilion.) The Judsons lived in Holden's parents' home in Vermilion. Their first child, Anna "Annie" Judson, was born the following year.
Following the Donation Land Claim Act, the Goodells traveled to the Oregon Territory in 1851, leaving Phoebe and her elder brother William behind. Phoebe's twin sister Mary and her fiancé Nathan W. Meloy settled in Willamette, Oregon and J. W. Goodell named and established the town of Grand Mound, Washington with his wife and younger children, where he took up a job as postmaster and part-time minister alongside George Whitworth.
Inspired by her family, and Holden's desire for independence from his parents, Phoebe set off for the month-old Washington Territory with Holden and Annie on March 1, 1853, a few days following her brother William's wedding to Maria Austin, both of whom would take the same Westward route the following year and witness the Ward Massacre. They left Ohio and, traveling on the Overland Trail once they passed Kansas City, made their way west with a small party of others. The journey in and of itself was an adventure given the primitive conditions and threat of an Indian attack. But late in June the party did pause for a day at La Bonta Creek in southeastern Wyoming when Phoebe gave birth to a son, Charles LaBonta Judson.
Phoebe Judson was the first non-Indian woman to settle in the Lynden area and became known as the "Mother of Lynden" during the half century that she lived there.
Pioneering in Washington Territory
The Judsons arrived at their new home in Grand Mound (Thurston County) in October 1853. About 1856 they moved to near Claquato (Lewis County) and late in 1858 moved to Olympia when Holden was elected to the territorial legislature on the Democratic ticket. They would remain in Olympia for nearly eight years. Holden served at least two terms in the legislature, and subsequently operated a store in Olympia.
In 1866 the Judsons moved to Whidbey Island, where Holden may have operated another store. By the end of the 1860s, their biological family was complete. They had four children: Annie (1850-1937), Charles (1853-1933), George (1859-1891), and Mary "Mollie" (1862-1894). (A fifth child, Carrie, died of whooping cough one month and one day after birth in 1869.) But note the distinction "biological family," because the Judsons would subsequently adopt an additional 11 children.
On March 1, 1870, the Judsons left Whidbey Island, bound for Lynden. They traveled by the steamer Mary Woodruff to Whatcom (now part of Bellingham), then obtained three canoes, with two Indians apiece, to paddle, pole, and portage them up the Nooksack River to Lynden.
The Judsons moved into a rough log cabin that they had acquired in an unusual trade with Colonel James Alexander Patterson, the first white settler in Lynden. Patterson had built the cabin in 1860, and he and his Native American wife had lived there for most of the decade. But at some point in the late 1860s his wife left him, and he began to search for a foster home for his two young daughters. By this time he was a frequent visitor to the Judson's home on Whidbey Island. Patterson made an offer to the Judsons that he would swap his home and land in what was then known among the settlers as "Nooksack" or "Nootsack" if the Judsons would care for his two daughters, Dollie (age 7 in March 1870) and Nellie (age 4 in March 1870) until they came of age. The Judsons agreed, and Patterson executed a quitclaim deed to his land in favor of Phoebe Judson in March 1870.
The Judsons settled into what Phoebe Judson would famously refer to as her "ideal home." It was located just south of 6th and Front streets, near the southwestern edge of today's Judson Street Alley, and had a view of the Nooksack River, which at the time ran farther north than it does today. Holden became postmaster of Lynden in 1873, and Phoebe was asked to select the name of the new town. She chose a name that she had heard from a poem, Hohenlinden, written by Thomas Campbell, which begins "On Linden, when the sun was low ..." But she changed the "i" in Linden to "y" because she felt it looked prettier.
Aunt Phoebe, the Mother of Lynden
Since Phoebe Judson was the first white woman in Lynden, she became known as the "Mother of Lynden," and her presence in the community was established. Almost from the beginning she was called "Aunt Phoebe," someone you went to when you needed something, be it a pail of buttermilk or help during childbirth. She also became known for writing letters to the Bellingham Bay Mail during the 1870s, describing the joys of life as a "Pioneer's Wife," as she usually signed her letters.
But she was more that that. She took a considerably more active role in the community than did many women of the day. During the 1870s log jams plagued the Nooksack River, preventing steamers from making their way upriver to Lynden. One of the biggest jams was downriver from Lynden, near what is today Ferndale. In March 1876 Phoebe began to solicit funds for the removal of the jam. Aided by a $50 donation from Holden, $1,500 was raised by the end of April from settlers in Sehome and Whatcom (both now part of Bellingham) as well as from settlers along the river. Phoebe also suggested that the man who donated the most work on the jam be given votes for a county office. History doesn't record whether or not this happened, but work on the jam began, and it was gone by early 1877.
Phoebe's son George Judson platted Lynden in 1884, and as the town site developed, the Judsons donated parts of their land for churches, schools, a printing office, a blacksmith shop, and for various private purposes. They also built the Judson Opera House in the late 1880s, and when it was completed in 1889 it became the community nexus for lectures, entertainment, and celebrations.
Phoebe has been described as a gregarious crusader for many causes. Known as religious, she took an active role in her opposition to saloons in early-day Lynden. But she is also known for taking an active role in the early development of its churches and schools. She arguably became more well-known than her husband, Holden, perhaps because she outlived him by 26 years and had the opportunity to accomplish more, and perhaps also because of her book of her life, A Pioneer's Search for an Ideal Home, which was first published in 1925, the year before her death.
During the 1880s the Judsons moved to a new two-story frame home on the north side of Front Street, midway between 5th and 6th streets. Holden died there on October 26, 1899, and Phoebe peacefully passed away there on January 16, 1926, having remained physically active and mentally alert until the time of her death. Services were held two days later, and the entire city of Lynden shut down to mark the occasion: Stores were closed, schools were dismissed, and hundreds of people from miles around made the pilgrimage to pay final tribute to the "Mother of Lynden."