Historic Vermilion Ohio Walking Tour
Take a walk back through time in historic downtown Vermilion, Ohio. Our tour begins in the Commons area of the Ritter Public Library at 5680 Liberty Avenue in downtown Vermilion, Ohio. Along the way, view our historic village, the Captain Henry C Leidheiser House, the Vermilion River, the Vermilion Lighthouse, the Wakefield Home, the Gilchrist/Bradley Houses and the legendary Simon Kenton Stone.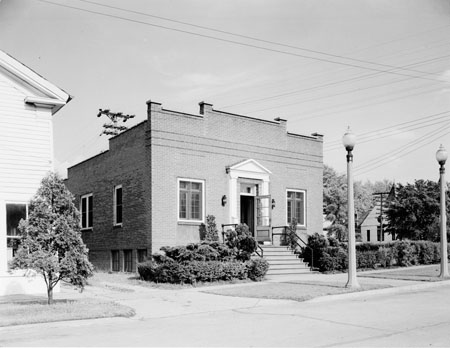 Ritter Public Library
In December of 1918, the Vermilion Village Board of Education appointed a library board of trustees. The newly appointed trustees immediately began putting aside monies toward a building fund.
By 1934, trustees felt they had sufficient funds to begin construction of a building. Actual construction began in January 1935 on Grand Street in downtown Vermilion. The library resided at that location until 1958. Until 1998, that building was home to the Vermilion Police Station.
In 1954, George Ritter contacted the board of trustees offering to purchase property and build what is now the current library, in memory of his parents. This building was formally opened to the public on Tuesday, Dec. 16, 1958 and a formal dedication took place in May 1959.
In 1977, Mr. Ritter again contacted trustees expressing an interest in contributing funds for an addition. Construction of the new addition began in September 1982, adding about 5,000 square feet and creating a second entrance on the north side of the building on Ferry Street.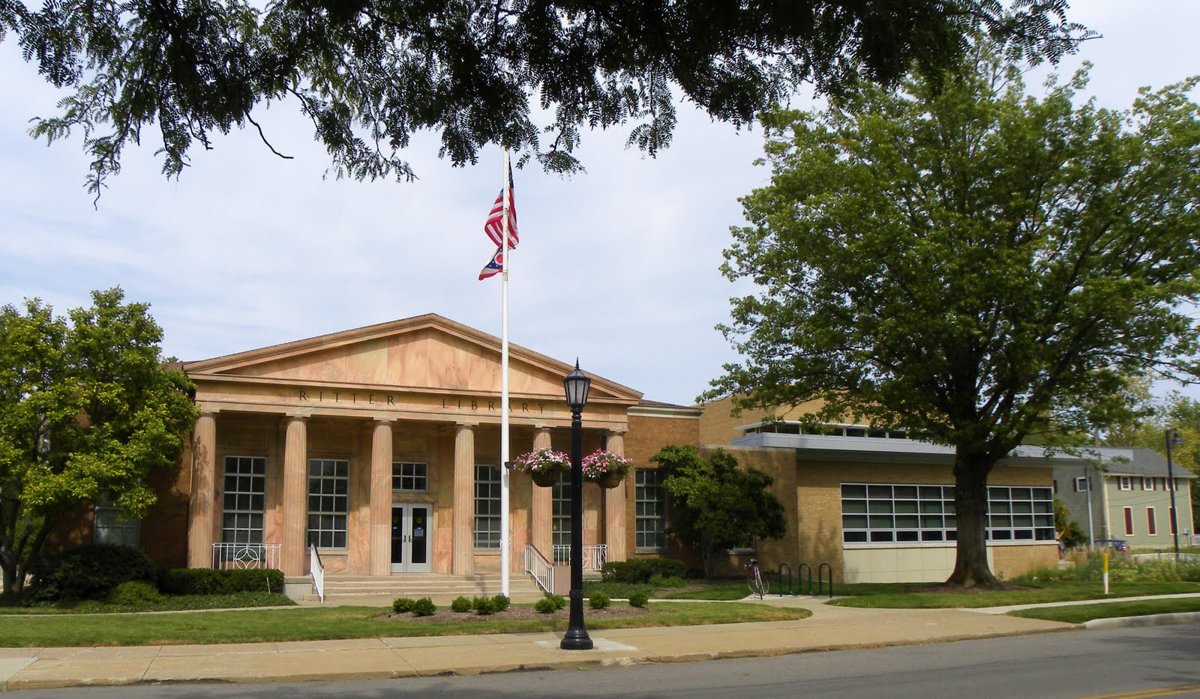 The newest expansion, in 2010 added 18,000 square feet of new space, including a new Community Room and other meeting spaces; a 26-station computer lab; and expanded spaces for children, teens and adults.
Ritter became the first public library in Ohio to earn a gold award for Leadership in Energy & Environmental Design (LEED) when the U.S. Green Building Council recognized the many green designs in the building addition in 2011. The designs include a rain garden in the front yard and a green roof, a porous parking lot, a cistern, and energy-efficient lighting and heating and cooling systems.
Before we go further, take a look at the road in front of the library. It is often called Liberty Avenue, the Grand Army Republic Highway and Route 6. Honoring the American Civil War veterans association, is a main route of the U.S. Highway system. While it currently runs east-northeast from Bishop, California to Provincetown, Massachusetts, the route has been modified several times. Oftentime bicyclists will use this route to travel cross country.
Vermilion
Vermilion was initially settled in the early 19th century and incorporated as a village in 1837. The city was named Vermilion River after the nearby Vermilion River and was developed as a fishing and small boat harbor. In 1840, the US Army Corps of Engineers dredged the river and built two piers at the mouth. This action constricted the water to prevent flooding. In dredging the river they created the depth needed for boats to travel in and out of the harbor.
As commerce grew in Toledo and Cleveland, the Vermilion River was found to be inadequate to large commercial traffic. Many cottages were built in the early 20th century as Vermilion became more of a resort town supporting leisure boating.
George Ritter
George Ritter was born in Vermilion on June 30, 1886. His family home is located on the current Main Street in Vermilion. His father John had come to Vermilion from Meckbach, Germany. John worked as a tailor, married Louise Hauth and together they had six children.
George graduated as a member of the 1902 class of Vermilion High School. He enrolled at Baldwin University and Cleveland Law School, where he earned his law degree in 1906. Earning money for his education, he worked each summer stringing twine and making gill nets.
Although George never moved back to Vermilion permanently, the family homestead on Main Street was a frequent stop during the summer months. In 1911, he married Mary Fowler of Berlin Heights. After practicing law for several years in Sandusky, George moved to Toledo in 1913, and became a partner in a firm. In 1928, he served as law director for the city of Toledo.
From 1925-1953, he was also associated with Willys–Overland Motors, Inc. in Toledo. At it's peak, from 1912 to 1921, Willys-Overland was the second-largest automobile manufacturing plant in the nation, just behind the Ford Motor Company of Detroit. In 1936, George Ritter with others successfully reorganized the company, which went on to become the nation's first factory to be converted to wartime production. During the 1940s, it produced the Jeep for the military. Throughout this period, George Ritter headed up the legal side of the company.
He and his wife Mary never had any children. In the 1950s, they began to generously give back to communities that had influenced them. They funded construction of the Ritter Planetarium at the University of Toledo; the Ritter Library at Baldwin-Wallace College in Berea; and the Ritter Public Library in Vermilion.
Leidheiser House
The next home we come across once belonged to Captain Henry C Leidheiser. This lovely corner home is located at Ferry and Main Street. He was one of many ship captains that built a home or resided here in Vermilion. This house was built in 1890. Main Street was at one time know as Division Street. In the late 1800s this property also held the town's blacksmith shop but was torn down eventually by Captain Leidheiser's widow, Anna.
Vermilion was once known as the "Village of Lake Captains", with many beautifully maintained captains' homes in its historic district, located near the lake. These homes feature housing styles from the Victorian, Italianate, Arts and Crafts, and Queen Anne eras.
Vermilion River
As we mentioned the town was named after the river. As the river developed, the Vermilion Lagoons were built along the river banks. Located on the east side of the Vermilion River, the Lagoons are considered one of the first planned residential neighborhoods on the water in the country. Construction started in 1928 by Louis A. Wells, a Cleveland contractor, who bought the land. Building up the land the homes currently set upon, the project added to the resort town atmosphere of Vermilion.
Lighthouse/Wakefield Home
And now we come to F.W. Wakefileld's mansion. Until recently, it housed the Great Lakes Historical Society's Maritime museum. The F.W. Wakefield Brass Company was incorporated in Vermilion, Ohio, on June 28, 1910, for the purpose of manufacturing gas and incandescent lighting fixtures, household hardware, and metal novelties.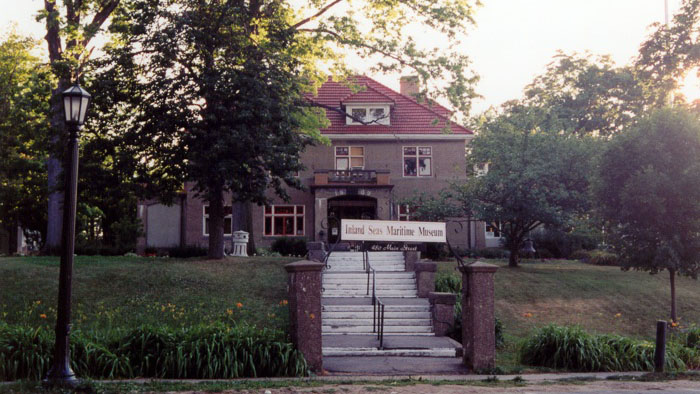 F.W. Wakefield went on to serve as mayor of Vermilion from 1910 to 1914. His influence was considerable in the development of the town. He was likely the most influential person in Vermilion during the 20th century.
The grand Wakefield home was built in 1909, the walls an incredible 14 inches thick. It soon became a lovely place for family, friends and community to gather.
The lighthouse at that time was located on the western pier. It included both an oil lantern as well as a Fresnel lens, which channeled the light created by the burning wick across the surface of the lake. In 1929, two young Wakefield brothers, Ted and Ernest, noticed it was leaning. The lighthouse was soon taken down and replaced with a steel tower that was automatically operated and required no keeper.
In 1991, after raising funds, Ted Wakefield had the current 34-foot-tall lighthouse that we see today, built at the foot of Main Street. More than just a replica, this lighthouse was sanctioned by the US Coast Guard as a navigational aid and was included on navigational charts. In 2012, the museum's collections – including the Fresnel lens – were moved to Toledo. The historical society deeded the lighthouse to the city but it was no longer lit.
In 2014, a committee was formed to begin educating the community and raising funds for a new Fresnel lens. In 2016, a Fresnel lens was installed and now lights the way each night for travelers on the lake.
Gilchrist/Bradley Houses
As we head back to the library, we will pass the former home of Captain J C Gilchrist. The home is currently a bed and breakfast and was built in 1885 in the Italianate design.
And to our left is the former home of Captain Alva Bradley. Built in 1848 in the Greek Revival style. Captain AlvaBradley house Bradley was easily one of the foremost figures in the shipping industry of the Great Lakes.
His career was a progressive one. He began as a sailor, was a vessel master many years, and built and owned boats until the Bradley fleet was one of the largest under individual management on the lakes.
Simon Kenton Stone
The legend goes that a young man by the name of Simon Kenton ran from his home in Virginia because he thought he had killed a man over a young lady. He became a frontiersman, traveling throughout Ohio and befriending Daniel Boone among others. Shawnee Indians supposedly held him prisoner for three years. Some believe that it was during that time that he carved his name on this stone; however, there is documentation that argues he was illiterate until 1785.
Walking Tour of Captain's Homes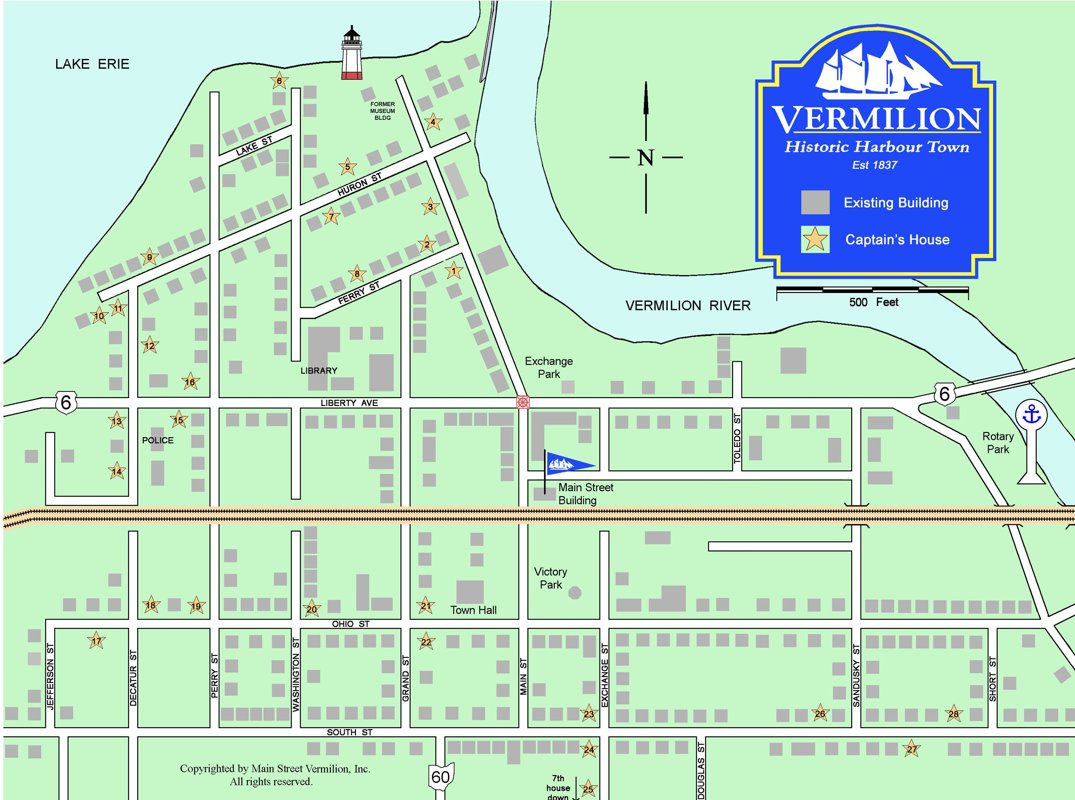 Vermilion was once known as the "Village of Lake Captains," and no other place has so many captains' homes in its historic district.
Vermilion was initially settled in the early 19th century and formed as a village in 1837. In 1840, the US Corps of Engineers finished building the tow piers at the mouth of the Vermilion which provided the depth builders needed to take boats into the lake. Thus began the "Golden Age of Ship Building" on the river, in tune with great demand for the shipping on the lakes. In a period of 36 years, 48 large lake schooners were built. Lumber, fish, sandstone, iron, and lime were major commodities at the time. The Captains of these vessels made Vermilion their choice as a homeport.
As research continues, more Captains' homes are waiting to be discovered.
Prepared by the Vermilion Historic Register Committee of Main Street Vermilion.
Please keep in mind that most of the captains' homes are private residences and not open to the public.
1. Captain Henry C. Leidheiser House, 566 Main Street, built 1890. Vernacular style.
2. Captain Fred S. Lawless House, 5604 Ferry Street, built 1902. Vernacular style.
3. Captain Charles A. Mattison House, 538 Main Street, built 1920. Craftsman style.
4. Captain Miles Thompson House, 485 Main Street, built 1830. Remodeled Greek Revival style.
5. Captain J.C. Gilchrist House, also known as Lakeside Inn, presently a Bed & Breakfast, 5662 Huron Street, built 1885. Italianate style.
6. Captain James F. Nolan House, 472 Washington Street, built 1911. Vernacular style.
7. Huron Street, built 1848. The captain was a good friend of Thomas Alva Edison. Greek Revival style.
8. Captain Charles Horton House, 5664 Ferry Street, built 1874. Gothic Revival style.
9. Captain George A. Bell Second House, 5790 Huron Street, built circa 1900. Vernacular style.
10. Captain Frank B. Parsons House, 5831 Huron Street, built circa 1915. Remodeled Vernacular style.
11. Captain Clifford H. Parsons House, 608 Decatur Street, built 1929. Vernacular style.
12. Captain Edwin R. Pelton House, 631 Decatur Street, built 1901. Queen Anne Style.
13. Captain Lewis Stone House, 5803 Liberty Avenue, built 1896. Vernacular style.
14. Captain Frederick Rae, 690 Decatur Street, built circa 1870. Italianate style.
15. Captain Frederick Bailey House, 5775 Liberty Avenue, built 1911. Vernacular style.
16. Captain George A. Bell House, 5760 Liberty Avenue, built 1876, presently a Bed & Breakfast. Italianate style.
17. Captain William Young House, 5815 Ohio Street, built 1848, presently a Bed & Breakfast. Transitional Greek Revival style.
18. Captain Alva Bradley Second House, 751 Decatur Street, built circa 1870. Remodeled Stick style.
19. Captain Albert Meyer House, 756 Perry Street, built circa 1853. Captain Meyer was the master of the ill-fated "Western Reserve" which sank taking the lives of many Vermilion families. Italianate style.
20. Captain Leeds Weeks House, 5676 Ohio Street, built circa 1880. Queen Anne style.
21. Captain Peter G. Minch, 743 Grand Street, built 1857. Captain Minch was the owner of the ill- fated ship "Western Reserve". Late Greek Revival with Italianate influence style.
22. Captain W.H. Gilchrist Sr. House, 5583 Ohio Street, built 1875. One of Vermilion's few older brick buildings. Italianate style.
23. Captain William H. Moody, 792 Exchange Street, built 1903. Vernacular with Queen Anne influence style.
24. Captain Henry Walper House, 5475 South Street, built 1899. Queen Anne style.
25. Captain Charles Gegenheimer House, 910 Exchange Street, built circa 1898. Vernacular style.
26. Captain Frederick Hasenflue House, 5332 South Street, built 1907. Vernacular style.
27. Captain Peter Full House, 5118 South Street, built 1903. Remodeled Vernacular style.
28. Captain Cornelius Young House, 5231 South Street, built circa 1880. Vernacular style.